Dr. Greg Moloney, MBBS, BSC MED, MMED, FRCSC, Ophthalmologist, explains what ICL's (Implantable Collamer Lenses) are and how they can correct vision in some patients.
Implantable Collamer Lens (ICL) and Vision Correction
For some patients seeking to get out of glasses, laser may not be a good option. This might be because your correction is too high, or your cornea too thin. For patients in this category the ICL may offer an alternative.
An ICL is a thin, highly flexible lens that can be implanted into the anterior chamber of the eye, underneath the iris. This is not visible to you after the surgery. The lens is able to correct high amounts of myopia (short sightedness), hyperopia (long sightedness) and astigmatism.
Featured Topics Dr Greg Moloney Ophthalmologist Vancouver BC
SmartSurface Laser Procedure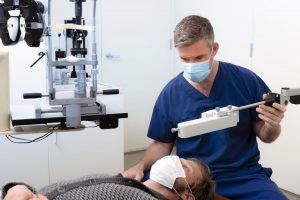 Dr. Greg Moloney SmartSurface Laser Expert Internationally renowned surgeon and innovator in eye surgery.